The Leadership Success Triangle
THE PHILOSOPHY BEHIND OUR APPROACH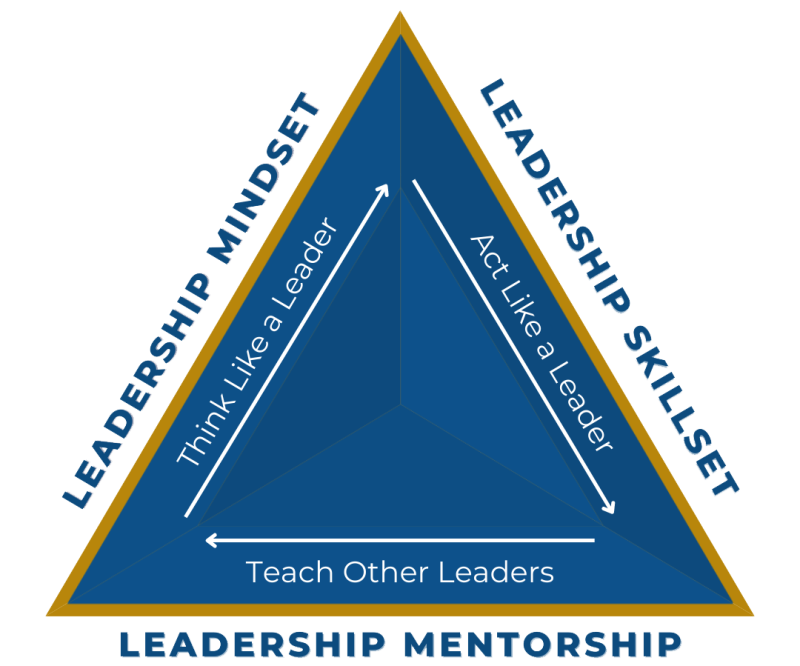 The first piece in the Be – Do – Teach leadership success triangle philosophy is the leadership mindset.
I define leadership mindset as a foundational set of values, beliefs and practices that help you to emerge a successful people leader within a year of consistent practice. The focal point here is to think right! 
Thinking like a leader is foundational to becoming a successful leader.
First, you have to "be a successful leader in your mind" and then you can go on to become a successful leader "in real life" by following supportive thoughts that you've been generating in your mind.
The second piece of the puzzle is called Leadership skill set, which are the specific sets of skills you must have in order to be a successful leader in real life, capable of overcoming the challenges of leadership. 
Examples of leadership skills include the skillset to inspire other people to do things they have never done before. Another leadership skill set is the ability to share clear messages and make complex ideas easy to understand for everyone in your team.
In essence, leadership skills are hard and soft skills that allow you to "do things great leaders do" consistently. And if you do such things very consistently for a long time, you cannot help but become a super successful leader who is well respected within and outside your niche.
The third component of the leadership success philosophy is what I call leadership mentoring. 
The best way to truly become an expert is to teach others.
In this third step your main focus is investing in the leadership development of other leaders within your company or specialty . As a seasoned leader, you master leadership more quickly if you pass your life lessons to others.
The more you build others, the more you grow as a leader and mentor. This means the more leaders you build, the more leadership experience you acquire and the more your impact grows.
In addition to running the Global Leadership Mastery Community and Gerald Amandu Success Academy, Gerald also runs a Private Leadership Advisory Group every year called the Pinnacle Leadership AdvisoryTM.

The Only Advisory Board that Accelerates Leadership Mastery by Transforming Ordinary Leaders to High Impact Extraordinary Mentors
Inside our exclusive Pinnacle Leadership AdvisoryTM, Gerald shares the latest, cutting-edge leadership strategies he's using to grow his Global leadership Mastery community and other businesses. 
In addition, Gerald also works closely with other experts in the area of leadership transformation and business development who also share with the board members their success strategies and the lessons of failure.
Besides Gerald and partners, each member of the elite leadership advisory group is a high-level leader who is committed to becoming a distinguished leadership and business mentor who will also share their experiences of success and failure in the true spirit of mastermind.
In Pinnacle Leadership AdvisoryTM, board members receive proven systems, templates, and processes that take them from successful transformational leaders to world class mentors who are highly committed to transforming lives and businesses on a massive scale.
Do you feel your current leadership ability is making you feel stuck, and is preventing you from properly utilizing all the opportunities that come your way?
Find out more about how our private Pinnacle Leadership AdvisoryTM group can help you!
As Pinnacle Leadership AdvisoryTM member, we're going to give you the skills, capabilities, resources, company, accountability and knowledge you need to dramatically transform your leadership to scale your business to the next level. 
The private Pinnacle Leadership AdvisoryTM group is for you, whether you simply want to maximize your leadership ability, or you want to dominate your niche and create a global business or anywhere in between.
Pinnacle Leadership Advisory™ Is All About Leadership Mastery And The Skills And Resources You Need To Develop a Profitable Business Capable of Scaling to Any Height
Want to Stay Connected? Subscribe to Our Weekly Newsletter Here!
Join our mailing list of the Impact Leader™ newsletter for inspiring stories, proven strategies and tactics to help you transform your thinking, learn leadership, build teams and scale your business. Also, get exclusive updates and early access to new programs!