Behind every successful company is an empowered team. Feedback is a powerful tool, when provided properly, enables employees to grow and be even more productive at work. Feedback helps team members to outperform your expectations. 
However, many leaders often neglect to give feedback to avoid the feeling of discomfort associated with such discussion. The answer to this discomfort is becoming aware of how to give feedback properly and to avoid the potential negative feelings: 
Here are some of the most effective ways to give feedback to your employees as a strategy to motivate them to improve: 
HANDLE TENSE SITUATIONS PROFESSIONALLY:
You will from time to time experience intense emotions at work. It is understandable to feel disappointed because of an employee's carelessness or poor work performance. But diving straight into the situation right away will not solve the problem. Calm yourself first and don't give feedback in public. Your actions often reflect on our leadership style. Always use a professional tone when giving feedback.
PUT YOURSELF IN THEIR SHOES:
Before you even think of providing feedback, be careful of the timing. Think about the person first and ask yourself, are they in their best mindset to process the feedback that you are about to give them? Be considerate because when you give feedback wrongly, it may negatively affect work performance.
BE SPECIFIC.
Once you've identified a perfect timing, prepare the things you're going to say. Feedback should be clear and direct. You can't just say, "I think you should do better than that. It needs to be improved." Be more specific and get straight to the point. Don't sugarcoat things. Use your notes to mention specific projects and situations in which they are lacking. Also mention the things that they should continue doing. Always choose your words well.
FOCUS ON PERFORMANCE AND NOT THE PERSON:
Some managers tend to take things personally at work, which is unprofessional and leads to poor leader-follower relationships. When providing feedback focus on work performance and not one's personality. This makes team members defensive. Focus on what they do as their duty.
MAKE IT A TWO-WAY COMMUNICATION:
During feedback conversations, let your team members ask follow-up questions and let them respond to the feedback you gave them. In this way, everything will be clearer to them. Also this allows the two of you to have the connection that will help you in coming up with a better course of action.
FOCUS ON THE SOLUTION.
In providing effective feedback, your focus should be to arrive at the solution and not blame the person for their shortcoming. Your main goal should be to solve the problems at hand. Once you've provided them feedback, also endeavor to provide them opportunities for self improvement such as relevant training. 
While giving feedback is vital, some leaders might find it a difficult task to implement. Moreover, providing feedback in the wrong way can lead to retention problems for you as the business owner. Hence your priority should be to learn this essential leadership skill of giving constructive feedback to your team members as your personal responsibility to them as their guide.
Remember what Bill Gates said, "We all need people who will give us feedback. That's how we improve." 
If you're struggling with giving feedback, email me at: [email protected] so we can help you. 
Let's keep in touch.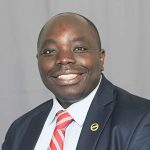 Dr. Gerald Amandu, PhD
Leadership Coach and Business Advisor CEO & Founder, Gerald Amandu Success Academy