Jack Welch is quoted as stating that "Good business leaders create a vision, articulate the vision, passionately own the vision, and relentlessly drive it to completion," He couldn't be more correct because no leader is effective without a clear vision for self and for the organization. Visionary leaders inspire and motivate their teams. They ask themselves: "What is our business' status now?" and "Where are we going with this business?"
Most businesses without vision do not succeed. This means as a leader, you need to create and share a clear vision to guide the team. If you don't have a clear vision, here are tips to help you to develop and use them:
1. CLARIFY YOUR PURPOSE:
Considering your own values and beliefs, where do you see your business a few years from now? Identify why you are doing this and the goals that you want to achieve in the business later on.
2. WRITE DOWN YOUR VISION:
Having your leadership vision written allows it to be clear with everyone else in the organization. It should be a clear sentence containing all that matters most to your business and your team.
3. PROVIDE FOCUS AND DIRECTION:
Lead with clear focus. It's critical to ensure that everyone in the organization is on the same page and each team member is taking the right with you to the future you desire.
4. BE INNOVATIVE.
Along the way, you will have to change and reconstruct your vision. The business world is constantly changing. Always be open for innovation because that's what businesses do; they adapt.
5. PUT IDEAS INTO ACTION.
Your vision won't come into reality without action. No matter how good your ideas are, they will be worthless without action. Remember implementation is where the "rubber meets the road".
Having a strong vision and applying it is not an easy task. Yet leading with vision is what enables businesses to stay focused on their goals. It is something that will turn into reality with constant practice.
If you don't have a clear vision for your company, DM us or email us: [email protected].
Let's keep in touch.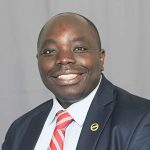 Dr. Gerald Amandu, PhD
Leadership Coach and Business Advisor CEO & Founder, Gerald Amandu Success Academy