As a leader, every decision you make is a response to your priorities. And often, the failures you might have experienced may not have been due to poor performance, but rather because of having unclear priorities.
This means that prioritization is an essential skill every leader must have to make best use of their team's efforts. 
However, priority setting isn't as easy as it seems. That's why we listed 3 key aspects you might want to consider when you want your team to focus on the top priorities for your business so you can achieve key results: 
1. START WITH THE COMPANY'S OBJECTIVES.
Let every task be guided by the company's objective. If not, you might lose track along the way. Without due consideration of the objectives, you can't say that activity X should be on top of your priority list if you don't know what you are aiming to achieve or where you are taking your team. As the leader, you set the direction. And to do that, you have to ensure that your "why" is clear including the intended timeframe to accomplish your objectives. Once you're clear what success looks like, then you can plot your priorities based on your vision. 
2. FOCUS ON IMPORTANT BUT NOT URGENT TASKS
In today's world, we are all short of time because of the multiple tasks we have to accomplish. As the team leader, you might choose to allocate the less important tasks to junior team members, so your key people can focus on the more important tasks in alignment with your priority company objectives. Alternatively, you can delay some less important tasks and come back after finishing the priority tasks. This will ensure your key personnel focus on implementing activities that are important and accelerate the growth of the company. 
3. HAVE A CLEAR VIEW OF WHAT THE TEAM IS DOING. 
Once the key priorities are established, monitoring your team's activity is the next major activity. Make sure to constantly observe your team and be ready to adjust everything along the way. You see, what you set in the beginning might not last until the end. So be open for adjustments and changes that might be necessary along the way. Be straightforward when you see a team member not focusing on the important tasks. On the other hand, be sure to give compliments and credits generously to members who are crushing their tasks constantly. 
In summary, establishing priorities enables the team members to focus on the tasks that matter most to avoid over-thinking and unnecessary procrastination. While this is ideal, many leaders and business owners still struggle with priority setting and often require coaching and mentoring support to overcome such difficulties. 
Fortunately, we are here to help you and your team. And if you're having difficulty in establishing priorities as a business owner or team leader, please send us a message by email at: [email protected] 
Also feel free to share with us any other challenges you may be experiencing in your business. 
Till then, keep honing your skills of priority setting.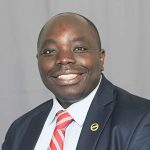 Dr. Gerald Amandu, PhD
Leadership Coach and Business Advisor CEO & Founder, Gerald Amandu Success Academy