Priority setting is a key skill to improving your productivity as a business owner. With poor planning, you might end up drained early in the day before completing key business tasks.
With proper prioritization, you'll avoid experiencing burnout and stress by allocating your energy only to the things that matter- things that will help move the needle forward in your life and business – thereby making you more successful. 
A key aspect in priority setting is knowing the sequence of when you have to approach a specific task. And to help you begin in setting your priorities in your business, here are some steps to follow: 
HAVE GOALS: 
Make sure that your goals are clear to you and your employees. Define what success looks like and identify why you are doing this in the first place. This helps you prioritize activities. 
IDENTIFY TASKS : 
Create a list of all the tasks that should be done. Write down the daily, weekly, and monthly tasks. Separate the ones that are urgent and not, important and not that important. 
USE A GUIDE: 
Carefully prioritize the tasks based on your daily, weekly, monthly and yearly goal based on your business. Select those to do now, tomorrow and in the future. If possible, create a flowchart of tasks to do, with highlights of the task to accomplish and their deadline. 
DEVELOP A SYSTEM: 
To master priority setting at the organizational level, you must have a standard approach to use regularly. You need to make sure your team understands and uses it. 
REASSESS: 
At the end of every cycle, always reassess. Ask yourself: Was it effective? Was it successful? Did we get the desired results? If no, rethink and redesign. 
Since prioritizing stops you from overlooking key tasks and deadlines, you need to master this skill so you spend time wisely. 
But if you're struggling with priority setting and you need help, email us today: [email protected]. 
Let's keep in touch.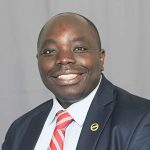 Dr. Gerald Amandu, PhD
Leadership Coach and Business Advisor CEO & Founder, Gerald Amandu Success Academy