Humility in leadership does not mean absence of ego and pride. It neither means that you are weak. Quite often, the stronger a leader is, the more humble they will be. While the average leader focusses on their self enhancement, humble leaders on the other hand focus on the overall team wellbeing and performance. Humble leaders are often willing to learn from others. They listen. They admit their mistakes. They can be appropriately vulnerable and they allow their humanity to show. Like other humans, humble leaders admit that they too have flaws.
Humble leaders boost the culture in an organization by learning along with other employees and team members. At the same time humility allows leaders to develop themselves and improve as individuals. A key element which every leader of today needs to consider is the fact that being humble helps them to build trust and facilitate learning within the team.
I invite you to see humility as a superpower in leadership. The super power of humiliy allows you to discover what you don't know. It allows you to be curious. Armed with humility, you are never shy to go out and find answers with your team. A humble leader will acknowledge when things go wrong and will focus on the solution.
Humility is thus an important aspect in leadership that every aspiring leader should develop this attribute to enky the success he/she desires to have in their personal or professional life. Well over to you. How do you measure on the scale of humility in leadership?
Comment below and let's hear your perspectives.
All good wishes!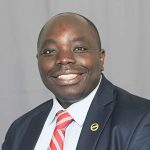 Dr. Gerald Amandu, PhD
Leadership Coach and Business Advisor CEO & Founder, Gerald Amandu Success Academy