Working in a safe and positive work environment makes getting up in the morning a joy rather than an obligation or even a dreaded activity.
You wouldn't want to work in a pleasant and comfortable environment, would you?
A positive work environment is very beneficial. Apart from promoting employee safety, growth, and goal-attainment, a supportive work environment improves team loyalty and productivity.
As a leader, you can create a safe workplace by implementing some of these tips below:
1. TRUST YOUR TEAM.
It is essential that you show that you trust your team members. One of demonstrating this is by giving them freedom when accomplishing delegated tasks.
2. SHOW APPRECIATION.
One way to create a positive work environment is by showing appreciation for your team. Openly appreciate winners before their colleagues to boost them.
3. EMBRACE DIVERSITY.
Great teams consist of different personalities- so deliberately choose team members who have diverse gender, cultures, personalities, and experiences to ensure a positive and healthy work environment.
4. HAVE REGULAR MEETINGS.
Have regular meetings to brainstorm and to generate honest feedback. Listening to and including team member's views makes, them feel valued and part of the organization.
5. CELEBRATE YOUR TEAM WINS.
Big or small, achievements should be celebrated. This will make your team members feel motivated and be more invested to reach their next goal. It shows you care as a leader.
As they say, the most effective way to produce competent team members is by ensuring that they are working in a safe and positive environment.
In conclusion, since the workplace greatly affect how teams function always pay attention to the welfare of your team members.
Reflection:
As a leader, using a scale of 1 to 10, how do you rate your performance in this area?
If you are unhappy with your team's performance or your relation with them, DM us.
Till then keep creating supportive workplace environments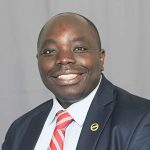 Dr. Gerald Amandu, PhD
Leadership Coach and Business Advisor CEO & Founder, Gerald Amandu Success Academy