Culture is something we can find anywhere. In the simplest form workplace culture is a set of beliefs, attitudes, and assumptions we share with people in the workplace. These sets of assumptions and practices can be supportive (positive) or unsupportive (negative).
A positive workplace promotes employees' safety, growth, and goal-attainment. It also improves the team performance, increases productivity, and enhances employee retention. In addition, a positive workplace reduces employees' work-related stress and reduces burnout and other negative consequences of unhealthy workplace cultures.
Since the workplace can greatly affect how the team members feel about their job, every leader has the obligation to strengthen the workplace culture with these 3 simple tips:
1. COMMUNICATING EFFECTIVELY FOR CLARITY.
Create a positive workplace by encouraging open and honest communication within the organization. One way is to regularly evaluate how people communicate at the workplace. A good way is to use meetings for such evaluation and to provide and receive feedback.
2. CREATING A CLEAR SET OF VALUES TO FOLLOW.
Have a clear set of organizational values that are regularly discussed with members as a way to emphasize their importance. Ensuring that your communication and action reflects your core values is a powerful way to influence your team members to positive action.
3. SETTING CLEAR ACHIEVABLE GOALS
With clear organizational goals, it becomes easier for the individual members to know how to operate. This clarity should also be built into their regular job duties so that as individual team members achieve their goals, they too achieve your organizational goals.
4. ESTABLISHING A REWARD SYSTEM
Having a built-in reward system acts as a motivation for those willing to push boundaries in achieving organizational goals. This can be effective in creating a culture of hard work and achievement. And when individuals and teams achieve their goals, celebrate them.
In essence, a positive workplace culture begins with a good leader who is able to use effective leadership and management styles to motivate people to love what they do.
And when employees love what they do, they invest more effort and work even harder to create more opportunities for the future that will benefit not just them, but the whole organization.
Now, reflecting on your business, how are you embracing this principle in your business?
Regardless of where you are right now, take a stand and start implementing it NOW.
If you need help with implementation, reach out to us!
In the meantime, let's keep changing lives!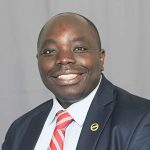 Dr. Gerald Amandu, PhD
Leadership Coach and Business Advisor CEO & Founder, Gerald Amandu Success Academy