Being leader of a team is a huge responsibility requiring a variety of skills and attributes.
One major expectation of the leader is to ensure that every team member is successful.
Therefore your primary role as a leader is to inspire and motivate your team members.
In fact, the ability to inspire is what separates effective leaders from average ones.While many often interchange the words "inspire" and "motivate"; they are different.
Inspiration comes from within a person, while motivation comes from external sources.
Inspiration is what pushes team members to accomplish a goal or task in their mind.
That's why great leaders know that it is better to inspire rather than motivate others.
And so, how can you inspire people or your team members?
Well here are helpful tips:
1. HAVE A CLEAR VISION, MISSION
You have to clearly state your plans and the things that you believe in. Be specific in what you are planning to attain so your team members have direction to guide them.
2. CREATE LONG-TERM GOALS.
Foster a bigger picture for the whole organization for your team members to understand that they are a part of this picture and that the organization has possibilities for them.
3. WORK WITH YOUR TEAM MEMBERS.
As a leader you just do not lead. You should collaborate with your team members, not just giving instructions, but working alongside your people and make things happen.
4. RECOGNIZE YOUR TEAM ACHIEVEMENTS.
Recognizing your team's wins, small or big, helps them to feel that they matter and this realization has a positive feedback on their morale and enthusiasm to strive harder.
5. COMMUNICATE AND LISTEN.
Always practice good communication in the workplace. We are all aware that this is one strategic tool to help teams achieve their goals. It's always better to over communicate with your team members rather than assume that they have understood you well.
Now that you are clear that leaders INSPIRE BY CONSISTENT ACTION.
It is important to remember that inspiration allows your team to transcend their limitations.
Finally, keep in mind that LEADERS do not just command, they INSPIRE.
Reflection:
How well are you doing in this area in your life and work?
Feel free to comment and share your experiences below
All good wishes!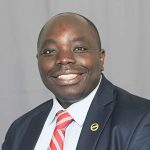 Dr. Gerald Amandu, PhD
Leadership Coach and Business Advisor CEO & Founder, Gerald Amandu Success Academy