Keeping calm all the time can be challenging for most people. Often your limits get tested. As a leader while the storm rages around you, having the ability to stay calm when under immense pressure is a test of credibility – it makes your team members trust and admire you even more.
In fact, what separates true leaders from wannabes is that true leaders deal with pressure well.
If you find it hard to deal with pressure, here are some tips that might be of great help:
1. LEARN TO MANAGE YOURSELF FIRST
Handing yourself well in stressful situations should be your primary goal. Master your triggers and find ways to tame them. It's only when you know how to handle yourself, then you can help others.
2. FOCUS ON YOUR PURPOSE- YOUR WHY
When the need to perform at a high level overwhelms you, take a step backwards to your why- you main motivation for doing what you are doing. Focusing on your why helps you to stay calm.
3. STRIVE FOR PROGRESS NOT PERFECTION.
Just because you are a leader, does not mean that you have to always be perfect. Instead of perfection, aim for progress by taking baby steps towards your goals. This will lessen your pressure.
4. SET CLEAR BOUNDARIES – PROTECT YOUR TIME
Keep in mind that you cannot save everyone. Also remember, you don't have all the answers. To avoid overwhelm, do not let everyone "have a piece of you". Say no more often to protect your time.
5. KEEP THINGS SIMPLE- LESS IS MORE.
Always remember that success is in things that are simple. Complexity adds to your stress and team stress. Ensure that the tasks you set for your teams are simple and straightforward and achievable.
Now knowing that staying calm allows you to make better decisions, what specific steps will you take today to enable you to work more effectively without becoming overwhelmed?
Till then, keep changing lives!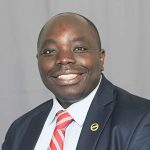 Dr. Gerald Amandu, PhD
Leadership Coach and Business Advisor CEO & Founder, Gerald Amandu Success Academy