In today's competitive work environment, a company's success depends largely on their team's effectiveness.
Since teams don't become effective on their own, the business owner needs to take deliberate steps to eliminate poor team work in the company.
Like the gardener needs to do nothing for weeds to grow in his garden, similarly if the business owner does nothing team members won't build strong teams on their own. Instead, individual weakness of team members will dominate.
As a result, the effectiveness of the team will be significantly reduced and things might start falling apart in the company.
This is why as a business owner, you need to actively help your teams to eliminate poor teamwork.
Since different methods work differently, here are various ways you can utilize to help eliminate poor teamwork:
1. SET CLEAR ROLES AND RESPONSIBILITIES:
Without clarity of roles and responsibilities, your team members will struggle with what needs to be done and why it needs to be done now and not another time. So clearly define the scope of each member's role and responsibilities.
2. PRACTICE TWO-WAY COMMUNICATION:
As a leader, it is your responsibility to not only give instructions and feedback, but to also receive ideas and suggestions from your team members. Teamwork succeeds when members speak freely without the fear of getting rejected.
3. DELEGATE TASKS TO QUALIFIED MEMBERS:
One thing that helps a team succeed is when the right people do the right tasks at the right time. Identify who should be responsible for which task and support them by giving them guidance and feedback when necessary. Delegate wisely.
4. RECOGNIZE SUCCESSFUL TEAM COLLABORATION:
When you constantly reward team members' efforts and success, this will motivate them to do more together. Remember that teams who win together will continue to work well together. Therefore show your appreciation for team wins.
5. HIRE YOUR TEAM MEMBERS WISELY:
Every team success begins with hiring the right people for the job. As a leader, don't be impulsive in filling up vacant positions with people who simply have the "paper credentials". No, this may hurt you. A more critical consideration is matching a combination of the person's attitude, mindset and people skills with their technical skills required to do the job.
Also since effective teamwork involves working with a diversity of people, your new hires must be able to work with people from diverse backgrounds, skill sets, beliefs and personalities.
It is for this reason that you need to constantly develop, nurture and improve your team members for success.
While this is not always easy, be motivated by the saying; "teamwork makes the dream work".
And if you need help with your teams, reach out to us for help.
In the meantime, keep building teams that work on dreams!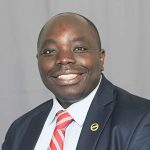 Dr. Gerald Amandu, PhD
Leadership Coach and Business Advisor CEO & Founder, Gerald Amandu Success Academy