As a business owner or independent professional, your main responsibility is to manage your team's workload to ensure that vital tasks are accomplished right away without any negative outcomes.
Hence to improve your team's efficiency, make sure to distribute the tasks fairly among members.
And to master this skill, here are 5 tips that will help you to manage your team workload well:
1. PLAN AHEAD AND PRIORITIZE:
In this phase, become aware of the big picture you want to achieve. This awareness allows you to list down the most important tasks that are required to achieve your organization goals and objectives.
2. SET ACHIEVABLE DEADLINES:
Since people tend to have different pace of work, set clear and reasonable deadlines for each of the tasks to be completed by the team. This clarity ensures that all the main tasks are completed on time.
3. DELEGATE TASKS FAIRLY AND INTELLIGENTLY:
As a crucial step to achieving success, assign key tasks to team members who are capable of doing it the right way- the first time. In delegating, ensure that these tasks are distributed fairly to the members.
4. UNDERSTAND TEAM MEMBERS' CAPACITY:
When team members get overwhelmed, the tendency is for them to become less productive. As a remedy, ensure your work targets can actually be met by the current team members given their ability.
5. CONSIDER RESERVING SOME TASKS FOR LATER:
Often, given the capacity of your team and the prevailing conditions, the best choice may be to set some tasks aside to allow you and your team to focus on those that are critically urgent and important.
Finally, remember that without proper workload management, your team members might experience work overload which in turn might negatively impact their work quantity and quality and their wellbeing.
As the business owner, realize that persistently high workloads can cause work-related stress and burnout. In the long run this will negatively affect the overall productivity of your organization.
Now knowing this, how do you intend to manage the workload of your team members?
Comment below and let us know your thoughts and challenges.
Till next time, improve on how you manage your team's workload.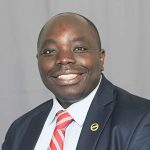 Dr. Gerald Amandu, PhD
Leadership Coach and Business Advisor CEO & Founder, Gerald Amandu Success Academy