I am sure you have felt the frustration that mounts while you are doing something you don't enjoy. Yes if you are like most people you often struggle with getting started when you lack motivation.
Often, people go through cycles of ups (when motivated) and downs (when demotivated). So as a leader, you have to put systems and practices in place to actively motivate your team members.
One way to keep your team members motivated is to ensure they are satisfied with their jobs. This is key because a high level of job satisfaction is positively associated with increased motivation.
Another vital energiser ignored by some leaders is recognizing their team members' efforts, besides ensuring that their remuneration is competitive and they have a supportive environment.
While many of the external factors are great, the most significant of these factors is how much each individual team member loves and cherishes what they do on a daily basis.
This led to the equation: MOTIVATION x ABILITY = PERFORMANCE.
Feeling motivation is what drives your team to put their skills and abilities to work. It is the secret weapon that enables them to overcome big challenges and the fear of facing new tasks.
When you motivate your teams well, you expect to reap these and other benefits:
IMPROVED PERFORMANCE. Motivated team members perform at their best.
INCREASED PROBLEM-SOLVING SKILLS. Passionate team members feel more connected to their jobs and are more creative and they much more easily generate solutions.
INCREASED JOB EFFICIENCY. Highly motivated employees who are satisfied with their job perform more efficiently and effectively, resulting in better outcomes for the company.
You as a leader should therefore be a constant source of motivation. Remember that a few demotivated team members can easily infect others too, so always be on the lookout. Your main task is therefore to learn how to motivate each team member as emotionally intelligent leaders do.
Reflection: How will you turn your team into a great and powerful workforce this week?
If you need advice and guidance on how to motivate your team, reach out to us.
Till then, keep motivating your teams for improved performance.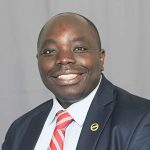 Dr. Gerald Amandu, PhD
Leadership Coach and Business Advisor CEO & Founder, Gerald Amandu Success Academy