A leader isn't a leader without its people. You guessed that right!
You see, in every organization, the people are always the greatest and most expensive asset.
This means that the most important job of the leader is to lead the people towards the set goals.
And to do this, the leader should come up with many creative ways to keep their teams inspired and motivated.
Here are 4 proven tips on how you can make your team involved, inspired, and motivated:
1. SET CLEAR ACHIEVABLE GOALS:
An employee can only be motivated if he/she knows what needs to be done. Make them aware of the organization's goals and objectives. Conduct this regularly so they can track if they are making progress.
People are generally motivated and energized when they know that they are WINNING their game!
2. COMMUNICATE WITH THE TEAM REGULARLY:
Effective communication is a must in every organization. Make sure that there is a constant flow of information between you and your people. Do not just always tell them your ideas. Make a particular effort to listen to their ideas and feedback. In this way, you can also create a positive relationship in the workplace.
3. CREATE A HEALTHY AND POSITIVE WORKPLACE:
Providing your team with a healthy work environment helps in motivating them and increasing their overall productivity and contentment. Learn how to create a comfortable space for them where they can express their creativity and innovation. Creating healthy habits prevents burnout and the causes of work-related stress.
4. GIVE POSITIVE FEEDBACK AND REWARDS.
Giving regular feedback is key. Importantly, recognizing team members for their hard work keeps them inspired and motivated for a long time. Do not just congratulate them for a job well done. Give specific feedback to them on how their contribution directly benefits the business or organization.
5. BE PERSONALLY MOTIVATED AND ENTHUSIASTIC:
As a leader, your main job includes constantly inspiring and motivating others. In a way you are the fuel for your business. Your positive energy drives team members. As the saying goes: "you can't give what you don't have"…this means you have to be motivated yourself before you can motivate those you lead and manage.
Now knowing this, how do you intend to inspire your team members?
If you are struggling with motivating your team, feel free to reach out to us!
In the meantime, keep inspiring your team members for better results.
All good wishes!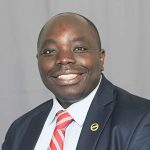 Dr. Gerald Amandu, PhD
Leadership Coach and Business Advisor CEO & Founder, Gerald Amandu Success Academy