I am sure you are aware that mastering how to transform your company is crucial for your business success. Increasingly, the work environment is diverse and changing constantly, requiring you to adapt constantly so as to remain relevant and competitive. A key requirement is to inspire your team members to stay motivated as you strive along serving your customers.
So how do you inspire your team members? Well the best way is to be the change you want to see in your team members. And here are 4 quick steps to help you inspire action from your team:
1. GIVE YOUR TEAM A STRONG REASON
Besides meeting the company's needs, the best reason for getting a job done well is where there is personal gain for team members as reward or training to expand their existing skill and knowledge base. So let your team members know how the present assignment ties with their future careers and other opportunities for them to shine and provide value to others now and later.
2. DEFINE CLEAR GOALS AND RESPONSIBILITIES.
The next thing you need to do is to give your team members a briefing about the goals they have to accomplish. In doing this, make sure you are absolutely clear on what outcomes you want to get from your team members at the end of the assignment. Remember, clarity in power!
3. SET ACHIEVABLE TIMELINES AND DEADLINES.
Once the goal is clear, both you and your team need to be clear on the deadline to avoid either party slacking off the target. In setting these delivery deadlines, set realistic timelines that are both challenging and long enough to allow your team to complete their assigned tasks in a timely way.
4. APPEAL TO THEIR EMOTIONS WHEN COMMUNICATING WITH THE TEAM.
After setting the timelines, make sure to communicate your timelines to the team in a way that's not threatening but rather exciting. Encourage friendly competition among the team members and most important, avoid threats and negative statements that will dampen the spirit of your team.
In inspiring your teams, remember that great leaders do not just command people to act. Instead they demonstrate the passion they want to see in their teams and employees to achieve goals.
A key takeaway from Simon Sinek's Ted Talk, "How Great Leaders Inspire Action", is that organizations succeed by focusing on WHY they do what they do, instead of WHAT and HOW they do it. The key lesson is therefore to motivate and inspire your team members to reach their own success and in so doing your organization will reap the benefits of their success as well.
Does this make sense to you?
If you want me to mentor you on how to achieve this then comment below and we will share the process!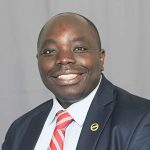 Dr. Gerald Amandu, PhD
Leadership Coach and Business Advisor CEO & Founder, Gerald Amandu Success Academy