The playing field in today's business industry is rapidly changing. This means that as a business owner you must constantly adapt to the changes to remain relevant in your niche. Importantly, every change must be well planned and implemented smoothly in order to achieve the best outcome for both you and your team members.
So when implementing a change, it is recommended to use proven strategies to ensure your success.
Here is 4 Step Understand, Plan, Communicate and Implement CHANGE MANAGEMENT strategy:
Step 1. UNDERSTAND CHANGE.
First of all, you have to clearly understand the change yourself. Think about the reasons for implementing the change; what the disadvantages are; how it will impact the organization; and finally, how it will be implemented.
Step 2. PLAN CHANGE.
Planning the change will vary from organization to organization. Consider the strategies that are best for your team. Decide carefully how you will delegate tasks related to designing and implementing the change process. In this step be sure to have clarity on how you want the end game to look like, especially the goals you want to see.
Step 3. COMMUNICATE CHANGE.
Communication is always the key to success. Once you have completed the plan, explain to your team why they have to do this or that. And make sure your team has a buy-in, meaning they must be sold on the change.
Step 4. IMPLEMENT CHANGE.
Here ensure that you and your team take the steps to make the change happen. Make sure that everyone in the organization understands the things to be done and have them report regularly their progress. Such regular communication between you and your team members ensures you get to address the areas that need attention.
In summary, since there is no such thing as "one size fits all." You have to identify which method really works for you and your team. And while you may experience challenges along the way, remember that mistakes are opportunities for growth in the company. So embrace mistakes as you go along the path of change management.
Now knowing this, if you want me to mentor you on how to achieve this then comment below and we will share the process!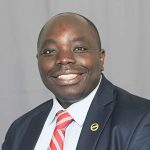 Dr. Gerald Amandu, PhD
Leadership Coach and Business Advisor CEO & Founder, Gerald Amandu Success Academy