There's the saying, "Trust takes years to build, seconds to break, and forever to repair." Does this ring a bell?
As you already know, trust is very crucial in every team's success. Trust opens new doors of opportunities that help employees grow beyond their expectations and capabilities. It impacts a leader's ability to inspire others.
Interestingly, when your employees trust you, they also trust your decision-making skills and vice versa.
As a leader, note that this trust starts with building relationships with employees through deliberate actions.
In addition to what you might already be doing, here are four ways that can help you instill trust in your teams:
1. MAKE EFFORT TO BUILD TRUST:
Take note trust is earned. It comes from the effort of keeping your words and aligning them with your core values.
2. BE HONEST AND TRANSPARENT:
Always tell your employees the truth, not just what they want to hear. Be gentle in delivering your message, especially when it is unpleasant information so you don't come off as offensive. So be transparent and honest.
3. BE A RESPECTED ROLE MODEL:
Your employees' behavior is a reflection of your own behavior as a leader. If you want them to trust you, show that you trust them, their capabilities, skills, and knowledge. Importantly, trust them with key tasks and duties.
4. DON'T BE A KNOW-IT-ALL LEADER:
Be comfortable with your team knowing you don't have answers all the time. And don't be shy to say, "I don't know, let me get back to you." It's okay to acknowledge your mistakes and take full responsibility when you fail.
In summary, understand that working in a high-trust environment improves employees' well-being and psychological safety. As a business-owner or leader, know that building trust is often a gradual process, requiring consistency to establish yourself as a trustworthy leader, that your team is happy to follow and support.
Now knowing that trust takes hard work to earn and little effort to lose, what will you do today differently?
If you need help with building trust, comment below or DM me so we can help you!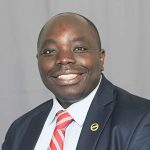 Dr. Gerald Amandu, PhD
Leadership Coach and Business Advisor CEO & Founder, Gerald Amandu Success Academy