If you are like most people, you'll probably find that managing a toxic work environment is a difficult task. Yet, many organizations from time to time experience unhealthy work situations which causes team members to struggle to function effectively under such challenging work conditions.
A toxic work environment often results in lower productivity, frustration among team members and often results in low morale, lack of transparency, favoritism and discrimination among your staff.
When you ignore it, you are virtually setting your company up for failure and in the long run you risk collapse from within, hence the need for corrective action immediately. Here are 5 ways to help out:
1. LISTEN TO EMPLOYEE CONCERNS.
Lack of attention and open communication contributes to a toxic workplace. So make time to focus on specific areas that need improvement knowing that ignoring staff concerns makes them feel ignored.
2. OBSERVE OPENNESS AND HONESTY.
Schedule one-on-one meetings with senior team members and other staff regularly. This helps to build a stronger relationship between you and your team and shows you are honest towards their needs.
3. IMPROVE RECOGNITION PROGRAMS.
Ensure that your hardworking employees get the benefits they deserve. A simple congratulatory reward can have a big impact on people, boosting their motivation to work even harder and better.
4. BALANCE EMPLOYEE WORKLOAD.
Divide tasks fairly based on employee capabilities. Prioritize the tasks that are urgent and important so employees can determine how much energy to put in now and how much to reserve for later.
5. IMPROVE YOUR LEADERSHIP SKILLS.
Sometimes, the root of an unhealthy environment is your leadership style itself. Reflect on how you lead your people, knowing that your employees watch your every action. Improve your abilities often.
As a leader, note that transforming an unhealthy work environment doesn't happen overnight. As you are improving the functioning of your organization, communicate constantly with your team members.
Reflection:
As you reflect, what are the toxic areas in your organization that need your immediate attention?
If you need help with transforming your business or organizational units, let us know.
Till then, let's keep creating healthy work environments !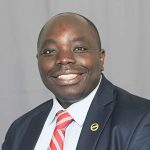 Dr. Gerald Amandu, PhD
Leadership Coach and Business Advisor CEO & Founder, Gerald Amandu Success Academy