If you are like most people, you already know that as a business owner or team leader, your success depends to a large extent on the cooperation of your team members. This means that great teamwork will always be essential for your success.
As a leader one of your key responsibilities is to cultivate strong and effective teams to maintain the overall success of the business. However, despite their importance, highly effective teams just don't happen; they have to be carefully developed.
If you are still struggling to create a winning team, we've listed some ways that may be helpful in transforming your teams:
1. PERFECT YOUR HIRING PROCESS
Every organization's success begins with hiring the right person for the job. Have a series of steps to go through. First, find out if they have the right skill sets you're looking to have in the team. In addition, use other means apart from the regular interview method to screen for best applicants. Work hard to improve your hiring process to avoid hiring the wrong people.
2. DIVERSIFY YOUR TEAM
In order to build an effective team, you have to gather a diversity of personalities to generate the required creative minds. The saying, "great minds think alike," is not always correct. You need to have people with different personalities, because an organization is not one-size-fits-all. The key is to go for diversity so you don't limit the possibilities of your company's growth.
3. CLARIFY GOALS AND RESPONSIBILITIES
Your role doesn't just end once you've hired the right people. Make sure that you give your hires every detail needed; especially the goals they need to achieve and the timeline they have to achieve those company goals. Without clear goals and responsibilities, even the best employee will fail to achieve substantial results, hence poor results will persist in the team.
4. PROMOTE TRANSPARENT COMMUNICATION
Quite often your instructions "get lost" because your team members become busy with their own tasks and not the overall goal of the company. As a leader, promote transparency in your team when it comes to their thoughts, ideas, and feelings. Make them feel comfortable to voice their thoughts without hesitation. This allows for open communication in your company.
5. OFFER REGULAR TEAM TRAINING
Never let your team members feel stuck on one skill set. It is important to ensure that none of your employees should think that their current responsibility is the only thing they can do. Offer them training within and outside the company in line and relevant to their work. Doing so will expose them to new opportunities beneficial to them and a little later your organization.
Well, now knowing that behind every successful business lies a great team, what will you do today to grow your team?
If you need help with building trust, type the word "help" below or DM me so we can help you!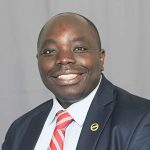 Dr. Gerald Amandu, PhD
Leadership Coach and Business Advisor CEO & Founder, Gerald Amandu Success Academy