Resilience refers to the capacity to bounce back rapidly from difficulty, adversity, or disaster. It borders on your ability to adapt based on your beliefs, self-assurance, and leadership. Resilience is a must for your success as a leader, especially when guiding people during periods of change, stress, and uncertainty.
Since facing challenges is inevitable as a leader, here are 4 tips to help you become more resilient in life:
1. Keep Stress Under Control: Pay attention to your body's response to stress and take swift action to manage stress. When in a low stress state, you'll bounce back more easily than when severely stressed.
2. Take Regular Breathers: Cultivate the habit of regular exercise schedule, healthy sleeping habits, or taking screen rest sessions to keep you energized. An energetic person handles challenges much better.
3. Face Your Failures and Learn: Learn from your mistakes. Always put disappointment behind you and focus on the lessons you can apply to similar difficult situations in the future. This improves your resilience.
4. Become a continuous Learner: Learn about resilience from various sources, books, podcasts, etc and apply those lessons during times of stress and change. Such new insights make you more resilient.
As a leader, it's important to remember that the ability to be resilient is like a muscle. With a sound strategy, regular practice, feedback, introspection, and course correction, your mental toughness keeps growing—first within you, then within the team as you pass your lessons and experience over to the team.
Let's keep in touch.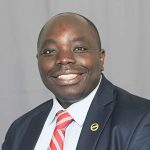 Dr. Gerald Amandu, PhD
Leadership Coach and Business Advisor CEO & Founder, Gerald Amandu Success Academy