Transactional leadership style is one approach that focuses on employee productivity above everything and conforming to tight rules and regulations. It emphases managing the performance of the individual and determining how well he or she performs in a structured environment with success measured according to a rewards- penalties system.
The transactional leader, usually a manager has formal position and directly manages individual performance to achieve maximum efficiency to produce results. However, it also means making each individual to be accountable for own success/failure.
When is it good to use a transactional leadership approach?
When members who know their jobs well and are motivated by the reward-penalty system.
When leaders value order and structure, rules and regulations to complete the organizational objectives on time.
When top performers need to be rewarded and poor performers "awakened' by loss of benefits or compensation.
When managing targets such as sales targets and fixed operations in manufacturing or logistics.
In contrast, transactional leadership style is not a good fit for places where creativity and innovative ideas are valued.
If you plan to adopt transactional leadership, here are basic steps that can help you:
First, set clear goals to achieve, define them clearly and ensure your team understands them.
Second, give clear instructions on what you want team members to do to achieve these goals.
Third, reward top performers and appropriately punish employees who performed poorly.
Fourth, repeat these steps as needed in a continuous cycle according to company objectives
Knowing this form of leadership relies on punishment and reward to achieve performance, how do you intend to use this approach?
Share your views and experiences with us below and let's know your thoughts!
Till then, let's keep in touch.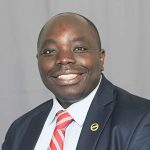 Dr. Gerald Amandu, PhD
Leadership Coach and Business Advisor CEO & Founder, Gerald Amandu Success Academy