Ever wondered how some people solve problems so easily while others toil in agony? The difference lies in mindset and work ethic. Average people don't believe they are capable of much. And when problems arise, they give up so easily without much effort. 
On the other hand, geniuses are always eyeing for more adventure. They love exploring new things and are open to solving problems. The more complex the problem, the more the thrill. 
If you want to operate like a genius, here are 3 tips to adopt: 
1. BE CURIOUS AND RESOURCEFUL: 
Always try to discover new ways to solve problems different from current approaches. Look out for resources- books, internet or colleagues to get ideas. Never stop looking, because failure occurs when you stop trying! 
 2. KEEP AN OPEN MIND: 
Keep your mind open to different approaches to address your challenges. Constantly ask why, why not and what if. Think outside the box and look for patterns and utilize them in ways that solve the problem at hand step by step. 
 3. HAVE A SYSTEMATIC APPROACH. 
Have specific and detailed steps to follow to solve problems easily. Having a systematic approach helps you to save time because following a series of steps, helps you know what to do next. This becomes your process. 
In essence, solving problems like a genius means being able to combine existing and newly-discovered ideas until you come up with the best solution. And this requires creativity and innovative thinking as a leader. Eventually then you have a proven process!
An important tip is to improve your process is to constantly interrogate your solutions by asking yourself, "Is this the right thing to do in this situation?". This questioning helps you to evaluate your options and come up with only the best solutions for your problems.
As a leader, do you feel drowned in leadership problems? Drop us a line at: [email protected] for help. 
Also share with us how you've been addressing your business problems. 
Till then, learn to be a genius in problem solving.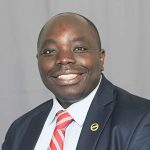 Dr. Gerald Amandu, PhD
Leadership Coach and Business Advisor CEO & Founder, Gerald Amandu Success Academy